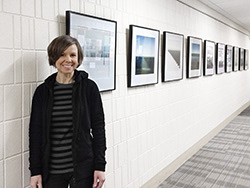 Tanya Lunina is a fine art photographer based in the Chicagoland area where she settled in 2006. Lunina's current interest is photographing in Chicago, and her ongoing projects are rooted on her first impressions of the city.
While each of her photographic series is different, a visual thread of order and balance passes through the images. In her works, Lunina creates sense of quietness which adds an intriguing accent to the both urban and its neighboring waterfront space.
Lunina has been passionate about photography for more than fifteen years. She takes photo courses and workshops to bring her photography experience to an advanced level. She works in both medias: film and digital. In 2019, Lunina has completed the Photo Program at the College of DuPage (Glenn Elyn, IL) with an emphasis on Fine Art Photography.